[vc_row type="container" padding_top="" padding_bottom="" css=".vc_custom_1449060063467{margin-bottom: 20px !important;}"][vc_column width="1/2″][vc_column_text]
TX500-1800DS Series: Volume production direct dye sub printer
With a class-leading 150 m2/h print speed, the Mimaki TX500-1800DS prints directly to digitally prepared polyester fabrics, for long production runs. Perfectly suited to high quality textile point-of-sale, light boxes, flags, mesh and all types of soft signage, the TX500-1800DS removes the need for transfer paper where the application permits.[/vc_column_text][/vc_column][vc_column width="1/2″ css=".vc_custom_1449059997398{margin-bottom: 35px !important;}"][vc_single_image image="71399″ img_size="full" add_caption="yes" onclick="link_image"][/vc_column][/vc_row][vc_row type="container" padding_top="" padding_bottom="" css=".vc_custom_1449060013623{margin-bottom: 0px !important;}"][vc_column][vc_separator color="#e2e2e2″ type="normal" thickness="1″ up="" down="" el_class="dotted"][/vc_column][/vc_row][vc_row type="container" padding_top="" padding_bottom=""][vc_column][vc_column_text]
TX500-1800DS delivers
Class-leading print speed of 150 m2/h (in high-speed mode)
New fast drying dye sublimation ink (Sb300)
Mimaki Advanced Pass System (MAPS) reducing imperfections in high production mode
Mimaki Degassing Module (MDM-20) enabling use of bottled inks
Mist Removal Filter for enhanced print stability
Auto Media Feeder for continuous printing
Media roll handling up to 300 mm diameter and maximum weight of 60 kg
[/vc_column_text][/vc_column][/vc_row][vc_row type="container" padding_top="" padding_bottom="" css=".vc_custom_1449060026262{margin-bottom: 50px !important;}"][vc_column][vc_tta_tabs style="flat" active_section="1″][vc_tta_section title="Specifications of TX500-1800DS" tab_id="1444300654474-2bfb86dc-fd3a"][vc_column_text]
Printer
TX500-1800DS
Print head
On demand piezo head (6 heads in staggered configuration)
Maximum print width
1850 mm
Printing resolutions
300dpi, 450dpi, 600dpi, 900dpi, 1200dpi
Print Modes
4 Colours (Uni / Bi)
300 x 300 dpi
300 x 450 dpi (HQ)
600 x 900 dpi
300 x 300 dpi (HQ)
600 x 600 dpi
600 x 1200 dpi
Ink type
Sublimation ink Sb300 (BL, M, Y, KD)
Ink supply
2 x 2L bottles per colour with UISS
Ink degassing module
Equipped with MDM-20
Media type
Pre-treated polyester
Media Size
Minimum: 297 mm, Maximum: 1,910 mm
Media Thickness
Up to 0.2 mm
Roll weight
Up to 60kg
Roll diameter
300 mm, Inside diameter: 76 mm
Media heater
Built-in front heater to dry underside of printed media
External drying heater (recommended)
Print gap
1.5 mm ~ 7 mm (user selectable)
External dimensions (WxDxH)
3,830 x 1,440 x 1,700 mm (excluding ink supply unit)
Weight
750kg
[/vc_column_text][/vc_tta_section][vc_tta_section title="Features of TX500-1800DS" tab_id="1444300654691-e081e086-5ad3″][vc_column_text]
150 m2/h print speed (in high speed mode)
TX500-1800DS features newly developed 6 print head technology, in staggered formation, featuring 1280 nozzles per printhead that delivers an unmatched 150 m2/h in 4 colour mode. Variable drop sizes from 7 picolitres up to 35 picolitres can be achieved.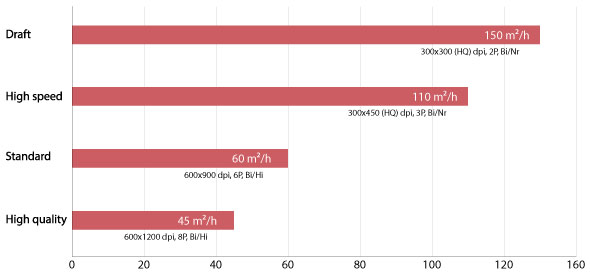 ---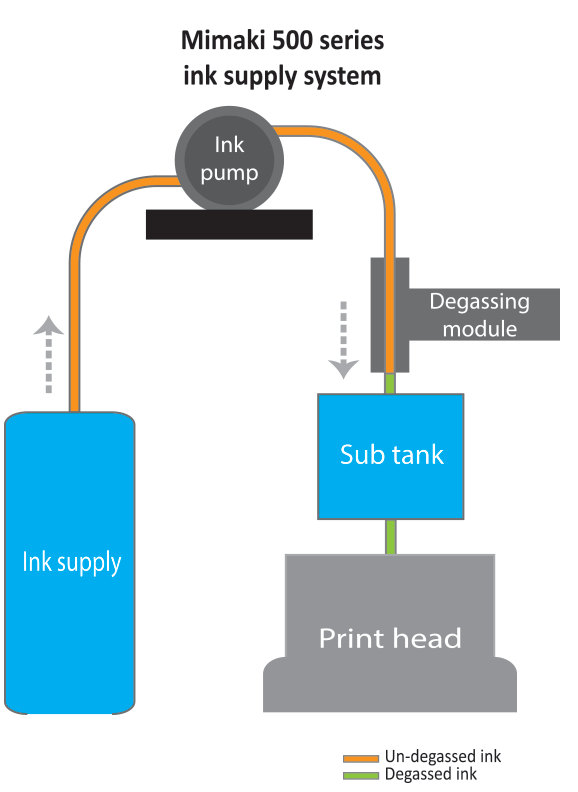 Mimaki Degassing Module (MDM-20)
Equipped with MDM-20 which eliminates gasses and bubbles inside the ink, enabling the printer to use bottled inks instead of conventional degassed ink packs, thereby reducing ink costs.
---

New Dye Sublimation Ink (Sb300)
Mimaki Sb300 ink, supplied in 2-litre bottles offers a more affordable alternative to conventional ink. This ink offers brilliant colour reproduction, excellent resistance to fading and fast drying.
---
TxLink Pro (optional)
TxLink Pro software RIP for multi colour separation, is available as an option.
Spot colour can be assigned to each colour on separation plates
ICC profile creation from CMYK + spot colours
Colour replacement on Raster data
A variety of panelling functions including step-and-repeat layout
---
Other advanced capabilities
Auto Media Feeder (AMF) AMF provides stable media feeding and take-up. Roll media of up to 60kg and 300 mm in diameter can be handled without the need for frequent changing, enabling continuous printing and improved productivity on large orders.
Mimaki's unique drying mechanism Printed ink is speedily dried and fixed on media with more flexible and convenient operation, by heating during and after printing.
Uninterrupted Ink Supply System (UISS) Two ink bottles per colour can be set in 4-colour mode. When an ink bottle runs out, another bottle of the same colour automatically starts supplying ink.
Mist Absorbing Filter The Mist Absorbing Filter removes ink mist during printing, reducing downtime caused by ink mist and enhancing print stability.
[/vc_column_text][/vc_tta_section][vc_tta_section title="Video" tab_id="1447257244810-2a04b802-b81d"][vc_column_text][/vc_column_text][/vc_tta_section][/vc_tta_tabs][/vc_column][/vc_row]