[vc_row type="container" padding_top="" padding_bottom="" css=".vc_custom_1449060063467{margin-bottom: 20px !important;}"][vc_column width="1/2″][vc_column_text]
A new generation high-speed dye sublimation textile printer
Developed specifically for the textile print industry, the revolutionary new Mimaki TS300P-1800 delivers cost effective dye sublimation printing while maintaining high quality and high productivity. Perfectly suited to the creation of fashion, apparel, sportswear, furnishings and PoS, the TS300P-1800 uses state-of-the-art technology to set new performance benchmarks for the sector.[/vc_column_text][/vc_column][vc_column width="1/2″ css=".vc_custom_1449059997398{margin-bottom: 35px !important;}"][vc_single_image image="71382″ img_size="full" add_caption="yes" onclick="link_image"][/vc_column][/vc_row][vc_row type="container" padding_top="" padding_bottom="" css=".vc_custom_1449060013623{margin-bottom: 0px !important;}"][vc_column][vc_separator color="#e2e2e2″ type="normal" thickness="1″ up="" down="" el_class="dotted"][/vc_column][/vc_row][vc_row type="container" padding_top="" padding_bottom=""][vc_column][vc_column_text]
TS300P-1800 delivers
Maximum print speed of 115m2/h (360 x 360dpi, 1 pass, Bi)
New Sb410 high performance, affordable sublimation transfer ink
Mimaki MBIS3 Bulk Ink System for long-run continuous printing
Latest Mimaki MAPS4 Advanced Pass System
Nozzle Check Unit (NCU) ensures reliable continuous print operation
Cockling reduction transfer mechanism for higher quality print
[/vc_column_text][/vc_column][/vc_row][vc_row type="container" padding_top="" padding_bottom="" css=".vc_custom_1449060026262{margin-bottom: 50px !important;}"][vc_column][vc_tta_tabs style="flat" active_section="1″][vc_tta_section title="Specifications of TS300P-1800″ tab_id="1444300654474-2bfb86dc-fd3a"][vc_column_text]
Printhead
On-demand piezo head (4 in-line printheads)
Print resolution
360dpi, 540dpi, 720 dpi, 1080 dpi
Maximum print width
1,940 mm (76.4 in)
Maximum media width
1,950 mm (76.8 in)
Ink
Type/Color
Sb410(Bl,M,Y,K,Lbl,Lm)
Package size
2L Ink pack
Media thickness
1.0 mm or less
Rolled media weight
40 kg (88 lb) or less
Certifications
VCCI class A, FCC class A, ETL UL 60950-1CE Marking (EMC, Low voltage, Machinery directive, and RoHS),
CB, REACH, Energy Star, CCC, RCM
Interface
USB 2.0 Hi-speed / Ethernet 1000BASE-T
Power supply
Single-phase AC100 ­­­– 120V / AC200 – 240V
Power consumption
(AC100V)1.44kW / (AC200V)1.92kW
Operational environment
Temperature: 20 – 30 °C ( 68 – 86 °F )Humidity: 35 – 65% Rh (Non condensing)
Dimensions (W × D × H)
3,200 × 850 × 1,857 mm (126 x 33.4 x 73 in )
Weight
213 kg (469.6 lb)
[/vc_column_text][/vc_tta_section][vc_tta_section title="TS300P-1800″ tab_id="1444300654691-e081e086-5ad3″][vc_column_text]
Maximum print speed of 115m2/h for high productivity
The TS300P-1800 optimizes the printing speed and quality to produce the desired print results. For this purpose, it provides a wide range of printing modes, from the draft printing mode (which operates at the maximum speed of 115m2/h) to high-quality printing mode



---
'Cockling' reduction features
TS300P-1800 incorporates a number of innovative new features to reduce the effects of 'cockling' (the wrinkling of the media surface due to high levels of ink absorbtion, which is particularly prevalent where low-cost or thin transfer papers are being used).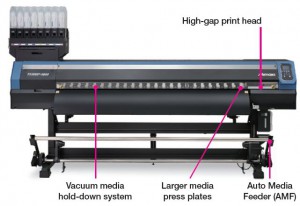 High-gap print head with high accuracy ink drop placement ensures clear, sharp print
Vacuum media hold-down system, smooths out cockling effects by using vacuum suction beneath the platen
Larger media press plates reduce media uplift immediately after printing
Auto Media Feeder (AMF) maintains stable media feeding and take up by automatically applying the correct tension
---
New Sb410 High Performance Ink Sets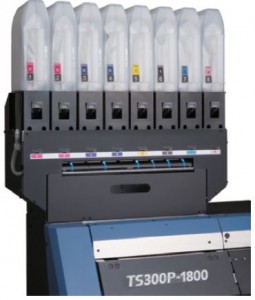 The new Sb410 Ink sets offer a number of additional benefits over the conventional Sb53 inks, including;
Reduced cost significantly improves profitability
Improved ink resolvability and stability ensures better ink flow and jetting with easier and less frequent cleaning of nozzles required
Low-sedimentation formulation delivers beautiful, vibrant, high-density printing
Low smoke emission is beneficial for the work environment and improves production efficiency
Mimaki Bulk Ink System 3 (MBIS3) utilises large 2 litre ink packs to deliver profitable long-run continuous print
---
MAPS4 Advanced Pass System
MAPS is Mimaki's unique anti-banding feature. To prevent banding, swath boundaries are overprinted and boundaries prone to banding are printed with fewer ink droplets.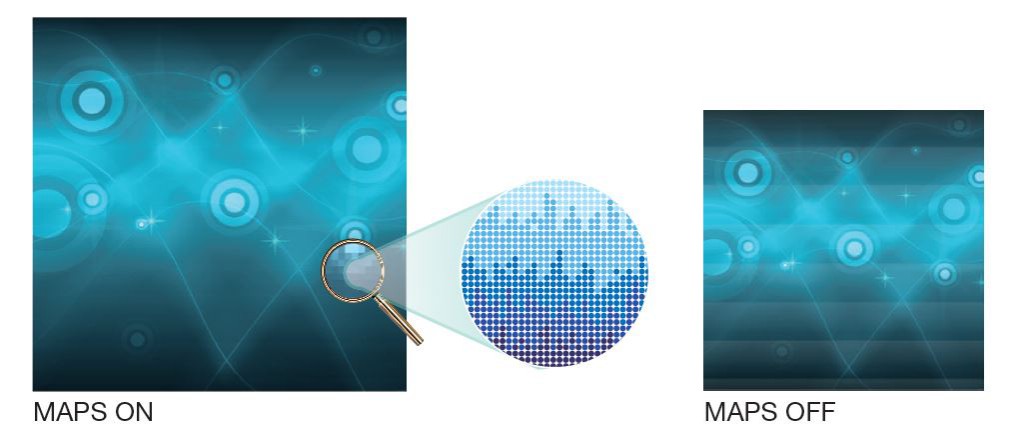 ---
Continuous Uninterrupted Printing Features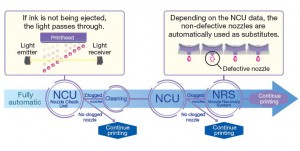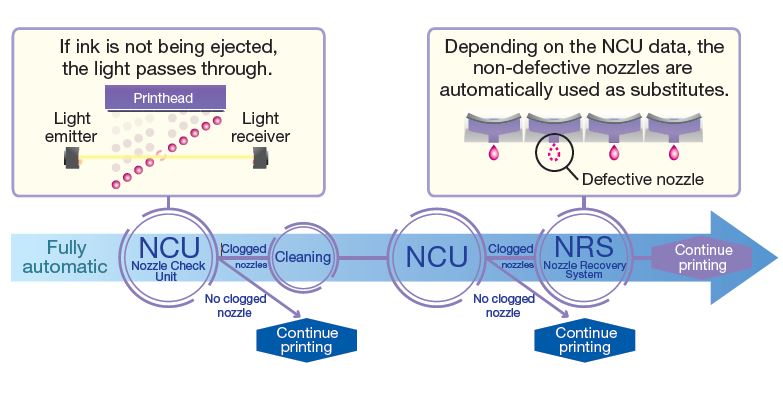 Nozzle Recovery Function
In the event of a nozzle malfunction not being repairable by the use of the maintenance function, printing can continue by the use of another nozzle, without any loss of productivity
or a reduction in image quality.
Uninterrupted Ink Supply System (UISS)
Two ink packs per colour can be set with the UISS function. When an ink bottle runs out, another bottle of the same colour automatically starts supplying ink.
---
Sophisticated RIP software maximizes the performance of TS300P-1800
A choice of RIP software is included: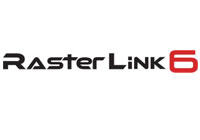 Userfriendly RIP Rasterlink 6
More beautiful and advanced print results are achieved by following a user-friendly interface that is easy to operate
Colour replacement function enhances the ability to re-create printed images
Print colour can be simulated on Illustrator / Photoshop without an actual print *This function requires MPM2 (Mimaki Profi le Master 2)
Program update and profi le download can be easily performed via internet
Professional software RIP for multi colour separation TxLink 3 Lite



Spot colour can be assigned to each colour on separation plates
ICC profi le creation from CMYK + spot colours
Colour replacement on raster data
A variety of panelling functions, including step-and-repeat layout, which are useful for textile designing
[/vc_column_text][/vc_tta_section][vc_tta_section title="Video" tab_id="1447257244810-2a04b802-b81d"][vc_column_text][/vc_column_text][/vc_tta_section][/vc_tta_tabs][/vc_column][/vc_row]