[vc_row type="container" padding_top="" padding_bottom="" css=".vc_custom_1449060063467{margin-bottom: 20px !important;}"][vc_column width="1/2″][vc_column_text]
A high quality, super-wide sublimation transfer inkjet printer …
Mimaki's latest grand-format transfer paper printer delivers the ultimate in high productivity for the exhibition, retail and home furnishing markets with its combination of speed and high quality output. The machine's industrial build quality and innovative technical features ensure new levels of performance and reliability.[/vc_column_text][/vc_column][vc_column width="1/2″ css=".vc_custom_1449059997398{margin-bottom: 35px !important;}"][vc_single_image image="71387″ img_size="full" add_caption="yes" onclick="link_image"][/vc_column][/vc_row][vc_row type="container" padding_top="" padding_bottom="" css=".vc_custom_1449060013623{margin-bottom: 0px !important;}"][vc_column][vc_separator color="#e2e2e2″ type="normal" thickness="1″ up="" down="" el_class="dotted"][/vc_column][/vc_row][vc_row type="container" padding_top="" padding_bottom=""][vc_column][vc_column_text]
TS500P-3200 delivers
Maximum print speed of 180m2/h (360 x 360dpi, 2 pass, Bi)
New 12 x printhead configuration in 3-row staggered array
New Sb310 high performance, low-cost sublimation transfer ink
External Bulk Ink System for long-run continuous printing with 3 litre containers
Mimaki Advanced Pass System (MAPS)
Nozzle Check Unit (NCU) ensures reliable continuous print operation
Cockling reduction transfer mechanism for higher quality print
[/vc_column_text][/vc_column][/vc_row][vc_row type="container" padding_top="" padding_bottom="" css=".vc_custom_1449060026262{margin-bottom: 50px !important;}"][vc_column][vc_tta_tabs style="flat" active_section="1″][vc_tta_section title="Specifications of TS500P-3200″ tab_id="1444300654474-2bfb86dc-fd3a"][vc_column_text]
tem
TS500P-3200
Print head
On-demand piezo head 12 heads (In-line 4 head x 3 staggered alignment)
Print resolution
X-direction : 360, 540, 720, 1,080dpi
Y-direction : 360, 540, 720dpi
Drop size
Minimum: 6pl, Maximum: 25pl
Head gap
Manual stepless adjustment 2.0mm – 7.0mm (3.0mm is the standard value)
Ink type
Dye Sublimation transfer ink-SB310
(Bl, M, Y, K)
Ink set
4 colour (Bl, M, Y, K)
Ink volume
2 litre ink bottle
(each ink can be filled to the ink supply unit up to 3L)
Effective print width
3,290mm
Media
specifications
Max. width
3,300mm
Roll weight
Up to 130kg
Media thickness
0.2mm or less
Media cutter
Cutting in Y direction by cutter on the head
Interface
USB2.0 / Ethernet 1000BASE-T
Power supply
Single-phase: AC 200V ~ 240V (±10%), 50/60 Hz (±1Hz), 29A or less
Power consumption
6960VA or less
Safety standard
VCCI class A / FCC class A / UL60950-1ETL / CE Marking (EMC, Low
voltage, Machinery) CB test / RoHS/ REACH / Energy Star / RCM
Dimensions (W x D x H)
Main unit : 5,620 x 1,800 x 1,820mm
Ink supply unit : 950 x 510 x 730mm
Weight
Main unit : 1,500kg
Ink supply unit : 30kg
Supplies
Item
Product No.
Note
Sublimation
Dye Ink
Sb310
Blue
SB310-BLT-BB
2 litre bottle
Magenta
SB310-MT-BB
Yellow
SB310-YT-BB
Black
SB310-KT-BB
Flushing Liquid 03
FL003-Z-BB
2 litre bottle
Flushing Liquid 03 maintenance kit
ML003-Z-K1
200ml bottle /  Dropper (x 2)
Options
| | | |
| --- | --- | --- |
| Item | Product No. | Note |
| Mimaki Target Colour Emulator | SCE-001 | Colour emulation software and colorimeter |
| TxLink3 Standard | STX-0008 | High-end software model |
| TxLink3 Professional | STX-0009 | High-end software model with colour separation processing capability |
[/vc_column_text][/vc_tta_section][vc_tta_section title="Features of TS500P-3200″ tab_id="1444300654691-e081e086-5ad3″][vc_column_text]
Maximum print speed of 180m2/h for high productivity
The TS500P-3200 optimizes the printing speed and quality to produce the desired print results. For this purpose, it provides a wide range of printing modes, from the draft printing mode (which operates at the maximum speed of 180m2/h) to high-quality printing mode.
---
Cockling-reduction media transportation mechanism ensures stable printing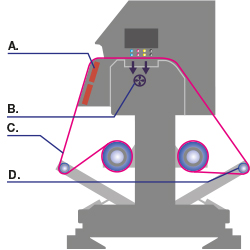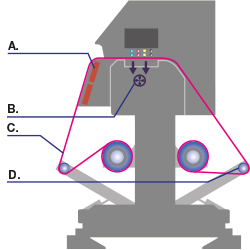 TS500P-3200 incorporates innovative features to reduce the effects of 'cockling' (the wrinkling of the media surface due to high levels of ink absorption, particularly when using low-cost or thin transfer papers).
Two Post Heaters with independent temperature control gradually heat the media after printing to reduce 'cockling'
Vacuum media hold-down system smooths out cockling effects with vacuum suction beneath the platen
Media
Auto Media Feeder (AMF) maintains stable media feeding and take-up by automatically applying the correct tension
---
12 x Printhead configuration in staggered array
12 print heads
1 head: 800 nozzles (200 nozzles x 4 row)
For each colour, 3 print heads are staggered in-line
---
Mimaki Advanced Pass System (MAPS)
To prevent banding, swath boundaries are overprinted and boundaries prone to banding are printed with fewer ink droplets.
---
Continious uninterrupted printing features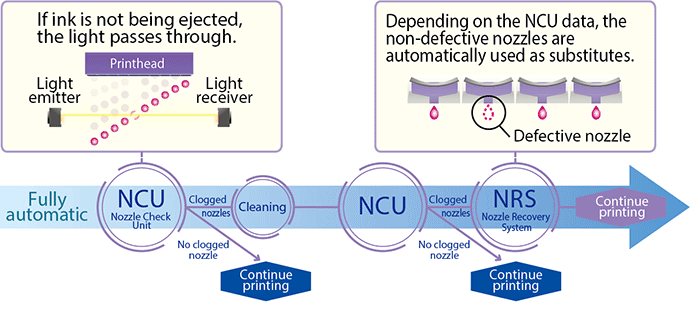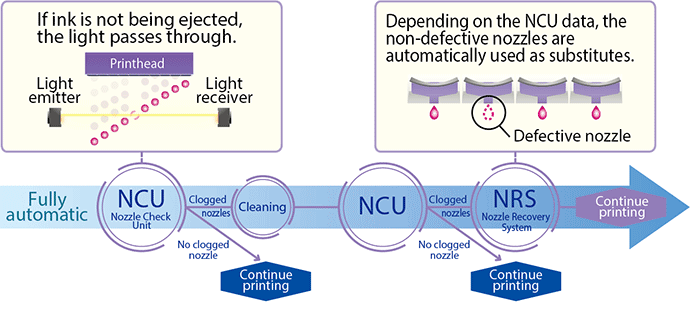 Continuous operation support minimizes the downtime
In the event of a nozzle malfunction not being repairable by the use of the maintenance function, printing can continue by the use of another nozzle, without any loss of productivity or a reduction in image quality.
Built-in large (3 L) ink containers for long-time continuous printing 
Continuous operation support pack minimizes the downtime. Large (3 L) ink containers are installed in an external ink supply unit. Ink can be filled into the container during long-time continuous printing. A degassing module is installed on the printhead carriage to allow the use of affordable undegassed inks.
---
Sophisticated RIP software maximizes the performance of TS500P-3200
Bundeld RIP Software


Optional



[/vc_column_text][/vc_tta_section][vc_tta_section title="Video" tab_id="1447257244810-2a04b802-b81d"][vc_column_text][/vc_column_text][/vc_tta_section][/vc_tta_tabs][/vc_column][/vc_row]