[vc_row type="container" padding_top="" padding_bottom="" css=".vc_custom_1449060063467{margin-bottom: 20px !important;}"][vc_column width="1/2″][vc_column_text]
TS500-1800: The World's Fastest Printer for Transfer Paper
The Mimaki TS500-1800 prints with an unrivalled speed of 150 m2/h on sublimation paper like no other machines on the market. Targeted at the textile market, the machine is especially suitable for production of sportswear and soft signage, both of which are seeing growth in run lengths appropriate for digital printing.[/vc_column_text][/vc_column][vc_column width="1/2″ css=".vc_custom_1449059997398{margin-bottom: 35px !important;}"][vc_single_image image="71399″ img_size="full" add_caption="yes" onclick="link_image"][/vc_column][/vc_row][vc_row type="container" padding_top="" padding_bottom="" css=".vc_custom_1449060013623{margin-bottom: 0px !important;}"][vc_column][vc_separator color="#e2e2e2″ type="normal" thickness="1″ up="" down="" el_class="dotted"][/vc_column][/vc_row][vc_row type="container" padding_top="" padding_bottom=""][vc_column][vc_column_text]
TS500-1800 delivers
Unrivaled printing speed of up to 150m2/h on transfer paper
Mimaki Degassing Module to prevent nozzle blockage
Mist removal filter enhances print stability
Large roll media loading
Stable media feeding and take-up
Brilliant, fast-drying dye sublimation ink
[/vc_column_text][/vc_column][/vc_row][vc_row type="container" padding_top="" padding_bottom="" css=".vc_custom_1449060026262{margin-bottom: 50px !important;}"][vc_column][vc_tta_tabs style="flat" active_section="1″][vc_tta_section title="Specifications of TS500-1800″ tab_id="1444300654474-2bfb86dc-fd3a"][vc_column_text]
Print head
On-demand Piezo head (six printheads with three staggered conformation)
Maximum width
1,890 mm
Print resolution
300 / 450 / 600 / 1200 dpi
Print speed
150 sqm/h (4 colours, 300 x 600 dpi, 2 pass, bi-directional)
Ink
Sublimation ink: Sb300 (Bk, Bl, M, Y, Lbl, Lm)
Media
Max. width : 1,910 mm
Weight : up to 60 kg
Roll diameter : f300mm or under (when AMF is used)
Power supply
Single-phase AC200~240V 20A or under
Dimensions (w x d x h)
3830 × 1440 × 1700 mm
Weight
750 kg
[/vc_column_text][/vc_tta_section][vc_tta_section title="Features of TS500-1800″ tab_id="1444300654691-e081e086-5ad3″][vc_column_text]
Achieves print speed of 150m²/h on sublimation paper while in high-speed mode.
The newly developed print heads (Six print heads with three staggered) achieve maximum speed.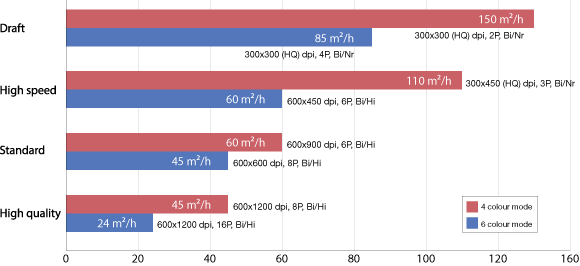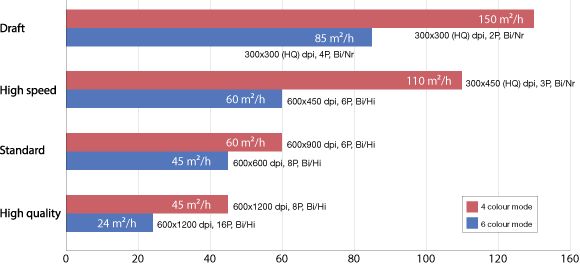 ---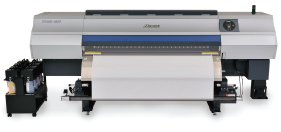 Mimaki Degassing Module: MDM-20
Mimaki degassing module "MDM-20" eliminates the gases or bubbles inside the ink. This means nozzle blockage is lessened and the accuracy of ink dot placement is improved. In addition, this module enables the printer to use un-degassed bottled inks instead of conventional degassed ink packs, thereby reducing ink costs.
---
Setting Roll-up media up to 60kg
Roll-up media of up to 60kg and 300mm in diameter can be used. There is no need to frequently change the media, meaning large orders can be handled smoothly and without interruption due to continuous printing.
---
Mist removal filter
The mist removal filter prevents troubles caused by ink mists and enhances the stability of print operations by suctioning the mist inside the printer and discharging it.
---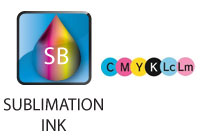 New sublimation ink "Sb300"
The sublimation ink "Sb300" will be simultaneously released with "TS500-1800". The "Sb300" ink offers a more affordable price than conventional ink. Furthermore, this ink produces brilliant color and dries fast.
---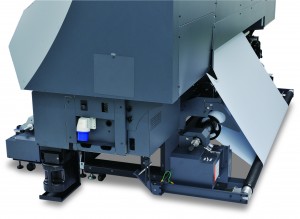 Auto Media Feeder (AMF)
Mimaki's unique "AMF"-system provides stable media feeding and take-up. Because of this, there is no need to constantly monitor the printer.[/vc_column_text][/vc_tta_section][vc_tta_section title="Video" tab_id="1447257244810-2a04b802-b81d"][vc_column_text][/vc_column_text][/vc_tta_section][/vc_tta_tabs][/vc_column][/vc_row]