[vc_row type="container" padding_top="" padding_bottom="" css=".vc_custom_1449060063467{margin-bottom: 20px !important;}"][vc_column width="1/2″][vc_column_text]
JV5-320DS Large Format Direct Sublimation Printer
JV5-320DS series offers digital print companies and signmakers a super wide solution for direct printing onto polyester based materials, such as flags, banners, and other soft signage. The Mimaki JV5-320DS prints high quality graphics at high speeds up to 60.3 sqm/h.[/vc_column_text][/vc_column][vc_column width="1/2″ css=".vc_custom_1449059997398{margin-bottom: 35px !important;}"][vc_single_image image="71395″ img_size="full" add_caption="yes" onclick="link_image"][/vc_column][/vc_row][vc_row type="container" padding_top="" padding_bottom="" css=".vc_custom_1449060013623{margin-bottom: 0px !important;}"][vc_column][vc_separator color="#e2e2e2″ type="normal" thickness="1″ up="" down="" el_class="dotted"][/vc_column][/vc_row][vc_row type="container" padding_top="" padding_bottom=""][vc_column][vc_column_text]
JV5-320DS delivers
Direct printing or transfer printing is possible: ink catcher allows for direct printing on pretreated fabrics
Large format printing up to 3.2 m width
Spray Suppressor System to enhance consistency and quality
Automatic Media Feeder (AMF) for stable feeding of heavy media up to 130 kg
Nozzle Checking Units (NCU) enable savings and avoid extensive waste (optional)
Unattended continuous printing with Uninterrupted Ink Supply System (UISS) and Mimaki Bulk Ink System (MBIS)
[/vc_column_text][/vc_column][/vc_row][vc_row type="container" padding_top="" padding_bottom="" css=".vc_custom_1449060026262{margin-bottom: 50px !important;}"][vc_column][vc_tta_tabs style="flat" active_section="1″][vc_tta_section title="Specifications of JV5-320DS" tab_id="1444300654474-2bfb86dc-fd3a"][vc_column_text]
Print head
On-demand piezo head (array of 4 staggered print heads)
Maximum print width
3250 mm (textile printing), 3290mm (paper printing)
Printing resolutions
540, 720, 1440 dpi
Ink type
Sb52 dye sublimation ink (BL, M, Y, K, NK, LBL, LM)
Sb53(Sublimation transfer ink) BL / M / Y / K / LBL / LM
Ink capacity
440 ml cartridge, 2000 ml ink pack
Media width
297 mm – 3300 mm
Roll weight
Up to 130 kg
Roll inside diameter
3 inch
Media heater
Pre-heater, post-heater
Power consumption
Less than 7200 VA
Dimensions (w x d x h)
5170 mm x 1610 mm x 1640 mm or below
Weight
1200 kg or below
[/vc_column_text][/vc_tta_section][vc_tta_section title="Features of JV5-320DS" tab_id="1444300654691-e081e086-5ad3″][vc_column_text]
Differences between direct and transfer printing
Direct printing
This method enables direct printing on pretreated polyester using dye sublimation inks and post-treatment heating in order to achieve the highest quality and bright vivid colours. Transfer paper is not needed, saving costs especially when longer runs are printing.
Sublimation transfer printing
In dye sublimation transfer printing, the image is printed onto transfer paper. After printing, a heat press or a calendar is needed to fix the image onto the substrate. The advantage of transfer printing is the high quality and durable output for both polyester based materials and hard substrates.
---
Print speed
Depending on print conditions, the JV5-320DS is capable of printing up to 60.3 sqm/h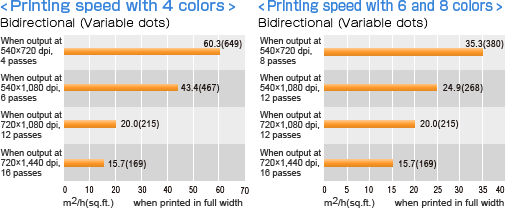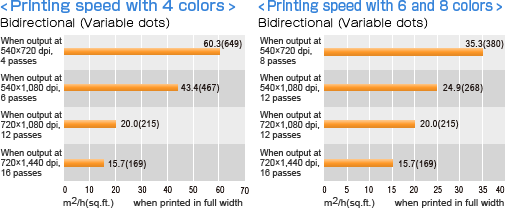 ---
Unattended continuous printing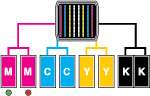 Uninterrupted Ink Supply System (UISS)
When one ink cartridge runs out, another cartridge of the same colour begins supplying ink. A maximum of 1760 ml ink per colour can be loaded at once. Ink cartridges can be changed during printing and unattended overnight continuous printing is possible.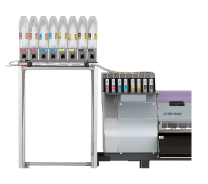 Mimaki Bulk Ink System (MBIS) – optional
The bulk ink system is an eco-friendly ink system that produces less waste while achieving continuous printing. It uses 2-litre ink packs and achieves as stable and reliable ink ejection as printing solely with cartridges. It is possible to use both 2-litre ink packs in combination with regular 220/440cc cartridges.
---
Take-up and feeding device


JV5-320DS enables secure and accurate feeding of heavy media up to 3250 mm width and up to 100 kg weight. The machine incorporates a tension bar to maintain constant media tension. In addition, a take-up device for adjusting take-up tension is included. Thus, both heavy and less wide media can be used with ease.
---
Advanced functions
Automatic nozzle drop-out detection (optional) monitors ink-discharging state from print head and ink clogging is quickly detected and cleaned, saving the waste of media and ink.
At high print speeds an additional ventilation fan on the large format printer supports drying of the media thus enabling rewinding.
USB2.0 interface supports high-speed data transfer.
A small take-up device which can adjust take-up tension is supplied. Even narrow media can be taken up without using a shaft.
[/vc_column_text][/vc_tta_section][vc_tta_section title="Video" tab_id="1447257244810-2a04b802-b81d"][vc_column_text][/vc_column_text][/vc_tta_section][/vc_tta_tabs][/vc_column][/vc_row]