JV300 Series: Versatile, high-quality production printer
Next-generation printer with beautiful output and high productivity
Mimaki's latest high performance JV300 Series sets a new bench mark for professional wide format printers. With the unrivalled versatility of multiple ink types, the JV300 delivers stunning photo -quality prints at class-leading speeds and provides the ultimate wide format solution for sign & graphics professionals, sportswear and fashion manufacturers, print shops and more.
JV300 Series delivers •••
Fast printing speeds up to 105.9m2 per hour
High quality print resolution of up to 1,440 dpi
Two different printing widths: 1,361mm and 1,610mm
Choice of multiple eco-solvent and dye sub ink sets:

9-colour options (SS21) including; Orange, Light Black & White inks
Vibrant 6-colour dye sub options (Sb53)

UISS and optional MBIS III on board 2 litre bulk ink system
Nozzle Check Unit and Nozzle Recovery System
3-way intelligent heater
Print head
On-demand piezo head (staggered dual-head)
Maximum print width
JV300-130: Max.1,361mm
JV300-160: Max.1,610mm
Printing resolutions
360 dpi, 540 dpi, 720 dpi, 1440 dpi
Ink type
(Eco) solvent ink: SS21/BS3/ES3 (to be available separately)
Dye sublimation ink*BS3 ink is only available to Non-EU countries
Ink capacity
SS21:440ml cartridge/2L ink pack (W:220ml cartridge only)
BS3:600ml ink pack
ES3:440ml cartridge (W:220ml, cartridge only)
Max. Media width
JV300-130: Max.1,371mm
JV300-160: Max.1,620mm
Roll weight
40kg or less
Media thickness
1.0mm or less
Operational environment
Temperature: 20–30 °C (68–86 °F) Humidity: 35–65% Rh (Non condensing)
Power consumption
2x Single phase (AC100~120V/220~240V +/-10%) 50/60Hz±1Hz
Dimensions (outside)
JV300-130: 2,541mm(W) x 707mm(D) x 1,392mm(H)
JV300-160: 2,793mm(W) x 707mm(D) x 1,392mm(H)
Weight
JV300-130: 170.6kg
JV300-160: 182.4kg
High print Speeds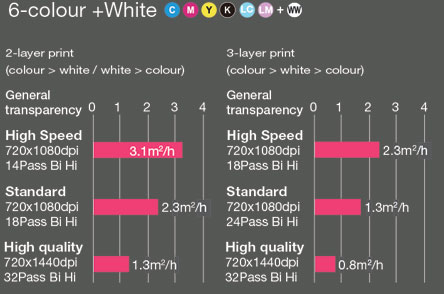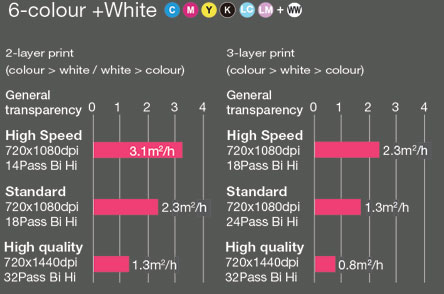 ---
Staggered Dual Print Head
Ensures wide band printing, even at high print speeds.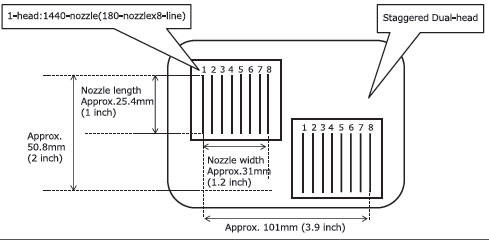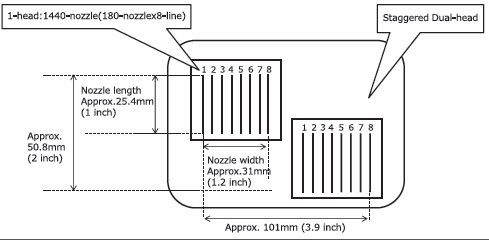 ---
Large ink dot size in high speed mode
Delivers high density print by removing the gap between dots.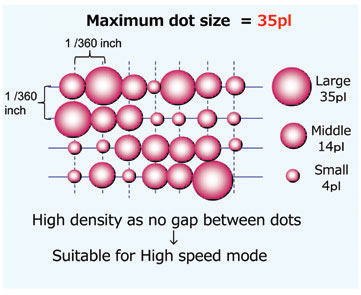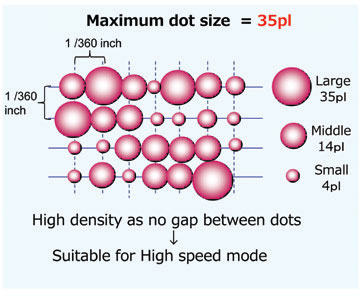 ---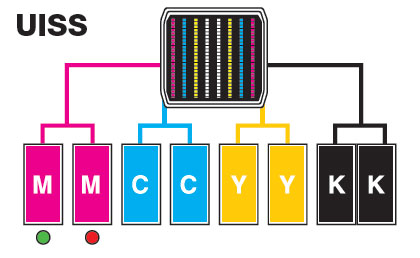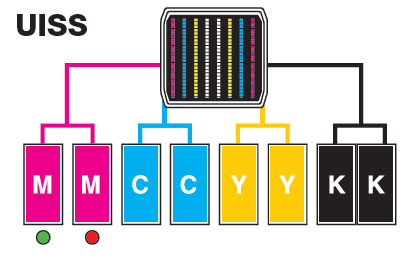 Uninterrupted Ink Supply System (UISS)
Utilises two cartridges per colour in 4-colour mode. When one cartridge runs out of ink the system switches automatically to the second cartridge of the same colour, enabling long unattended printing.
When the ink cartridge runs out of ink, the indicator will light up red, while the system already switches automatically to the second cartridge of the same colour.
---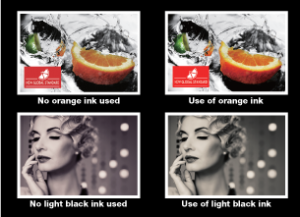 Orange & Light Black SS21 Inks
New orange process ink delivers wider gamut to cover 94% of the PANTONE colour chart. Light black gives superior grey balance control and accurate greyscale printing.
---
Waveform Control Technology


Ensures high quality print resolution, by jetting ink drops in straight lines with almost perfect round dots, delivering clear and sharp letters, lines and edges.
---