UJF-6042 A2 Format UV LED Flatbed Printer
Building on the success of the UJF-3042 series, the Mimaki UJF-6042 offers all the benefits of the smaller UJF-3042 in a larger A2 format version with even greater versatility and spectacular photo-quality print reproduction onto an almost limitless range of materials, objects and substrates. UJF-6042, with its larger print area opens up a whole new world of possibilities for the end-user in the higher volume production market, where even higher quality is demanded.
UJF-6042 Series delivers
Outstanding print quality of up to 1800 x 1800 dpi
A2 size flatbed for a wider range of media
Direct printing on subtrates up to 150 mm thick
Energy saving eco-friendly LED UV curing
Multiple ink options, including white ink, clear varnish, and inkjet primer
Special applications, e.g. 3D lenticular and unique textures on metal
Print head
On-demand Piezo head
Printing resolutions
720 x 600 dpi, 720 x 900 dpi, 720 x 1,200 dpi, 1,440 x 1,200 dpi, 1,800 x 1,800 dpi
Ink type
LH-100 (C/M/Y/K/W/Cl)
LF-200 (C/M/Y/K/W)
LF-140 (C/M/Y/K/Lc/Lm/W)
Ink circulation
White ink circulation by MCT (Mimaki Circulation Technology)
Inkjet primer
PR-100 (220 ml cartridge / 600 ml ink pack)
Max. print size
610 mm x 420 mm
Max. media size / weight
610 mm x 420 mm x 150 mm (W x D x H) / 7 kg
Media suction
Air suction by vacuum
Dimensions (WxDxH) / Weight
1,510 mm x 966 mm x 960 mm / 150 kg
HIGHER IMAGE QUALITY THAN EVER BEFORE
Increased ink dot placement accuracy for better image quality
The UJF-6042 adopted a unique ball screw type head conveyance mechanism heretofore available only in high-end flatbed printers. This improves the accuracy of the ink drop placement, which in turn prevents bandings.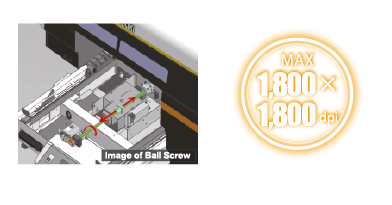 Variable drops function for smooth and beautiful gradation
Variable drops function provides 3 different drop sizes at once, with a minimum drop size of 4 picoliter. This produces smooth gradation patterns and brilliant transitions of many colour layers even in the 4-color mode.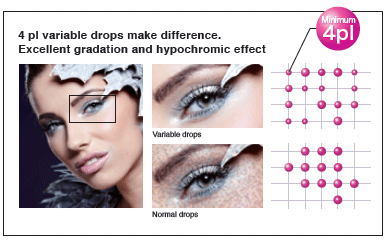 ---
USEFUL FUNCTIONS TO ENSURE PRINT QUALITY
Mimaki Circulation Technology (MCT)
Mimaki Circulation Technology (MCT) is a newly developed white ink circulation system that prevents pigment sedimentation and reduces ink waste.
Nozzle Recovery Function temporarily restores print quality, reducing potential downtime if maintenance issues should arise.
---
AUTOMATIC PRIMER APPLICATION FUNCTION
The UJF-6042 incorporates an automatic primer feature, simplifying pre-priming process, which is traditionally done manually by wiping or spraying. Mimaki's inkjet primer cartridge is simply inserted into the corresponding ink slot of UJF-6042, enabling the primer to specifically target the print image area only.

*Always test your intended materials before using primer. When printing with primer and white / clear ink, production speed is reduced to some extent.
---
THREE TYPES OF UV CURABLE INK
Three types of UV ink are available to achieve the best print results on a wide range of applications. In addition, eight ink slots enable various ink configurations, such as 6 colors plus white and clear. Furthermore, by printing different layers of ink and/or gloss, your images will not only look more enticing but also will have a raised / embossed quality that will satisfy your customers.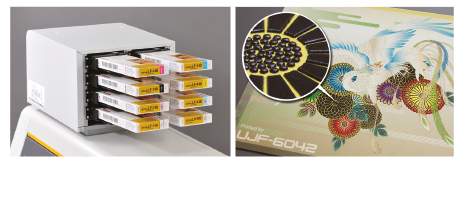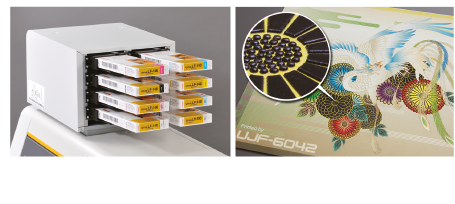 ---
SPECIAL FINISHES TO PROVIDE ADDED VALUE TO YOUR PRINTS
3D Lenticular achieved by high definition print
The UJF-6042 can discharge minimum 4 pl ink dots in 1,800 × 1,800 dpi, enabling lenticular printing by 3D lens of 100 lpi which has previously been difficult for existing digital printers to achieve.* lpi = line per inch
* For 3D lenticular printing, dedicated software for data creation and 3D lens are required separately.
Unique textures on metals achieved through etching process
Etching is a surface treatment which utilises the corrosive action of metal, through chemicals. The area which should not be corroded is covered with a mask of UV ink. Then the substrate is immersed into the corrosion solution to be corroded. With such treatment, you can achieve high quality textures, and permanent engraving.
---
ENVIRONMENTALLY-FRIENDLY TECHNOLOGY
Eco-cartridges, which can be repeatedly used by changing spent ink packs, contribute to waste reduction and less ink cost
UV LEDs have longer life and consume less energy than conventional UV lamps
Less transfer waste and no wasted inventory by printing on-demand, direct-to-substrate
No noticeable odour and no excessive noise
---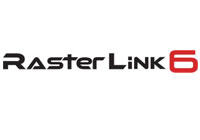 RASTERLINK 6 ADVANCED RIP AS STANDARD
Sophisticated new software offers user friendly and intuitive operation with features such as colour replacement.