[vc_row type="container" padding_top="" padding_bottom="" css=".vc_custom_1449060063467{margin-bottom: 20px !important;}"][vc_column width="1/2″][vc_column_text]
UJF-3042 Desktop Size UV LED Flatbed Printer
The UJF-3042 series providing a unique solution for short runs and on-demand printing. The printers offer unrivalled versatility and high quality print reproduction on an almost unbelievable range of materials, products and substrates. With its compact desktop format the UJF-3042 series offers unlimited possibilities to the end user.[/vc_column_text][/vc_column][vc_column width="1/2″ css=".vc_custom_1449059997398{margin-bottom: 35px !important;}"][vc_single_image image="71345″ img_size="full" add_caption="yes" onclick="link_image"][/vc_column][/vc_row][vc_row type="container" padding_top="" padding_bottom="" css=".vc_custom_1449060013623{margin-bottom: 0px !important;}"][vc_column][vc_separator color="#e2e2e2″ type="normal" thickness="1″ up="" down="" el_class="dotted"][/vc_column][/vc_row][vc_row type="container" padding_top="" padding_bottom=""][vc_column][vc_column_text]
UJF-3042 Series delivers
Outstanding print quality and reliability
Space-saving compact desktop design
Direct printing on substrates up to 50 mm thick (FX model) and 150 mm (HG model)
Simultaneous printing of colour and white
White ink and clear varnish
Automatic primer application function
HG Model features additional two print channels for 6-colour printing plus white and clear inks
[/vc_column_text][/vc_column][/vc_row][vc_row type="container" padding_top="" padding_bottom="" css=".vc_custom_1449060026262{margin-bottom: 50px !important;}"][vc_column][vc_tta_tabs style="flat" active_section="1″][vc_tta_section title="Specifications of UJF-3042″ tab_id="1444300654474-2bfb86dc-fd3a"][vc_column_text]
Print head
On-demand Piezo head
Maximum print area
300 x 420 mm
Printing resolutions
720 x 600 dpi, 1440 x 1200 dpi
Ink type
LH-100 (C/M/Y/K/W/Cl)
LF-200 (C/M/Y/K/W)
LF-140 (C/M/Y/K/Lc/Lm/W)
Ink capacity
220 ml cartridge / 600 ml ink pack
Media size
Width: up to 364 mm / Length: up to 463 mm
Media thickness
UJF-3042 FX: Up to 50 mm
UJF-342 HG: Up to 150 mm
Media weight
Up to 5 kg
UV device
UV LED
Interface
USB 2.0
Power consumption
Less than 0.5 kVA
Dimensions (w x d x h)
(FX model) 1200 mm x 1090 mm x 770 mm
(HG model) 1200 mm x 966 mm x 920 mm
Weight
(FX model) 113 kg
(HG model) 130 kg
[/vc_column_text][/vc_tta_section][vc_tta_section title="Features of UJF-3042″ tab_id="1444300654691-e081e086-5ad3″][vc_column_text]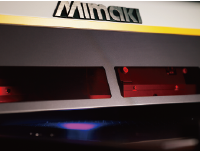 UV LED Curing Technology
The UJF-3042 series employs UV LED printing technology, which does not generate excessive heat, allowing the machine to print directly on virtually almost anything, including heat-sensitive materials.
Two models are available: UJF-3042FX, which can print on media up to 50 mm thick, and UJF-3042HG (up to 150 mm thick).
---
Three Types of UV Curable Ink
Three types of ink are available for Mimaki UJF-3042 series. LH-100 hard UV ink excels in scratch and chemical resistance as well as in colour reproduction; LF-200 flexible UV ink enables stretching of ink up to 200% during post-processing work; LF-140 offers strong gradation in 6-colour printing and is more flexible than LH-100 ink.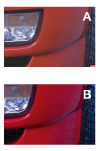 Simultaneous white ink under and overprint
Print outstandingly colourful, bright images on transparent and coloured substrates with white ink under or overprint without slowing down the print speed.
A. 4/6 colours only
Without white ink as a basis for overprinting, the colours are not as vivid as they should be.
B.4/6 colours + white
With the white ink overlay print, the images are bright and vivid.

Stunning effects with clear ink
Add value to your prints by using clear ink to create beautiful glossy, matte, or embossed finish–as well as to further protect your image.
---
Automatic Primer Application Function
Both printers incorporate an automatic primer feature, simplifying pre-priming process, which is traditionally done manually by wiping or spraying. Mimaki's inkjet primer cartridge is simply inserted into the corresponding ink slot of UJF-3042, enabling the primer to specifically target the print image area only.


*Always test your intended materials before using primer. When printing with primer and white / clear ink, production speed is reduced to some extent.
---
Useful Functions to Ensure Print Quality
Mimaki Spray Suppressor System prevents satellite ink drops, ensuring higher print reliability, consistency, and quality.
Nozzle Recovery Function temporarily restores print quality, reducing potential downtime if maintenance issue should arise.
Mimaki Circulation Technology (MCT) is a newly developed white ink circulation system that prevents pigment sedimentation and reduces ink waste. Available on UJF-3042HG.
---
Environmentally-friendly Technology
UV LEDs have longer life and consume less energy than conventional UV lamps
Less transfer waste and no wasted inventory by printing on-demand, direct-to-substrate
No noticeable odour and no excessive noise
[/vc_column_text][/vc_tta_section][vc_tta_section title="Video" tab_id="1447257244810-2a04b802-b81d"][vc_column_text][/vc_column_text][/vc_tta_section][/vc_tta_tabs][/vc_column][/vc_row]