[vc_row type="container" padding_top="" padding_bottom="" css=".vc_custom_1449060063467{margin-bottom: 20px !important;}"][vc_column width="1/2″][vc_column_text]
JV400SUV A Brighter, Faster, Solvent UV Printer
The JV400 SUV series sets new industry standards by combining the flexibility of solvent printing with the durability of UV cured inks, resulting in smooth, glossy prints, which simulate the appearance of being coated yet retaining the colour brightness expected from a solvent printer. These characteristics, coupled with a high resistance to scratching and weathering are designed to satisfy even the most demanding of customers.[/vc_column_text][/vc_column][vc_column width="1/2″ css=".vc_custom_1449059997398{margin-bottom: 35px !important;}"][vc_single_image image="71326″ img_size="full" add_caption="yes" onclick="link_image"][/vc_column][/vc_row][vc_row type="container" padding_top="" padding_bottom="" css=".vc_custom_1449060013623{margin-bottom: 0px !important;}"][vc_column][vc_separator color="#e2e2e2″ type="normal" thickness="1″ up="" down="" el_class="dotted"][/vc_column][/vc_row][vc_row type="container" padding_top="" padding_bottom=""][vc_column][vc_column_text]
JV400-130/160SUV delivers

Solvent UV inks for a smooth, glossy finish with brilliant colour definition
High level of resistance to scratching and weathering
Fast drying inks for improved productivity
4 colour printing
High print durability for outdoor or indoor applications
Production quality output at up to 18.1 sqm per hour
Choice of two print widths (1371 mm or 1620 mm)
Prints exit machine completely dry, ready for immediate post-processing
Improved variable dot print technology provides minimum dot size capability of just 4 picolitre
[/vc_column_text][/vc_column][/vc_row][vc_row type="container" padding_top="" padding_bottom="" css=".vc_custom_1449060026262{margin-bottom: 50px !important;}"][vc_column][vc_tta_tabs style="flat" active_section="1″][vc_tta_section title="Specifications of JV400SUV" tab_id="1444300654474-2bfb86dc-fd3a"][vc_column_text]
Print head
On-demand Piezo head (array of 2 staggered print heads)
Maximum print width
1,361 mm / 1,610 mm
Printing resolutions
600, 900, 1200dpi
Ink type
SU100 Solvent UV ink 4 colour (C,M,Y,K)Ink Supply system: 600 ml pack
Print speed
High speed
18.1 m2/h  (900 × 900 dpiˎ 6 pass, bi-directional, 4 colour)Standard speed
14.2 m2/h  (900 × 1200dpiˎ 8 pass, bi-directional, 4 colour)

Media Size
Up to 1,371 mm / 1,620 mm
Weight
Up to 25 kg
Roll inside diameter
2-3 inch
UV curing unit
Equipped with fluorescent UV tube lamp
Media dryer
3 way intelligent heater (Pre/Print/After)
Interface
USB 2.0
Power consumption
100~120V:1,440W x 2  ⁄  220~240V:1,800W x 2
Dimensions (w x d x h)
2,630×855×1,435mm / 2,875×855×1,435mm
Weight
241kg / 259kg
[/vc_column_text][/vc_tta_section][vc_tta_section title="Features of JV400SUV" tab_id="1444300654691-e081e086-5ad3″][vc_column_text]
Advanced ink technology of the JV400SUV Series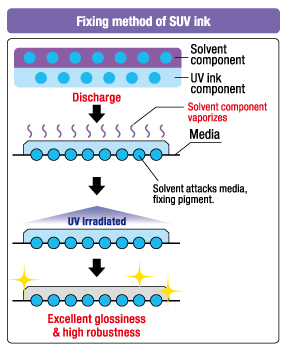 Solvent UV ink contains a solvent component and a UV ink component. First, the solvent component attacks the acceptance layer of the media, fixing the pigment; the subsequent UV curing assures very high robustness.
When using Mimaki Solvent UV Inks, fixation and curing is immediate. Therefore, drying times is eliminated. Immediately after printing, secondary processing, such as lamination, can be performed, dramatically increasing efficiency.
---
High scratch resistance
A robust UV component remains on the media after UV curing, which provides a surprisingly strong scratch resistance (rub-fastness). Moreover, Solvent UV is equal to or better than solvent ink in weatherability and alcohol resistance. In cases such as banner materials, where lamination is difficult and often omitted, considerable durability can be expected.

---
Never-before-seen glossiness
Solvent UV ink contains a solvent component which attacks the acceptance layer of the media, fixing the pigment. It performs UV curing, not when the ink is discharged, but after the pigment is fixed to the media, all while maintaining the vivid color reproduction of solvent ink, resulting in a coating-like smooth glossy print. Signs with solvent UV have a bold and vivid appearance, which definitely catches the eyes of passers-by.
---
Improved drying & UV curing devices
3 Way Intelligent Heater improves the colour reproduction and fixability of ink by heating the media to the proper temperature before, during and after printing. In combination with the 3 Way Intelligent Heater, the UV curing unit immediately cures the ink to be fixed.

---
Newly developed JV400SUV high-speed print heads
Two newly developed print heads with four rows of 320 nozzles per head are arranged in a single line, enabling high-speed printing with top quality results.
JV400 standard quality print speeds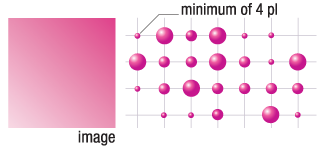 Variable drop sizes with a minimum size of 4 pl
The ink drop sizes can be selected to a minimum of 4 pl. Multidrop function provides three different drop sizes at once, producing fascinating, non-grainy and smooth printing results. Mimaki's proprietary head control technology delivers unrivaled high definition & high resolution prints.
---
Fail-safe functions for continuous operation
Nozzle Recovery Function
Even when nozzle washing has no effect on troubled nozzle, the print image quality can be recovered temporarily.
* Nozzle Recovery Function is a temporary failure averting function and its recoverability is limited.

Uninterrupted Ink Supply System (UISS)
Two ink cartridges per colour are set in 4-colour mode. When the ink level of one cartridge is almost empty, the ink supply automatically switched to another cartridge of the same colour, preventing from stopping a print job due to running out of ink.

---
Eco-cartridge method of the JV400SUV Series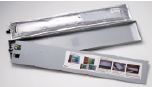 Eco-cartridges can be repeatedly used by changing spent ink packs. This eco-cartridge method contributes to waste reduction and can provide ink at lower prices.
* Ink pack capacity is 600 ml.[/vc_column_text][/vc_tta_section][vc_tta_section title="Video" tab_id="1447257244810-2a04b802-b81d"][vc_column_text][/vc_column_text][/vc_tta_section][/vc_tta_tabs][/vc_column][/vc_row]