JFX500-2131: Ultra-High Speed, High Precision Flatbed UV LED Printer
The new JFX500-2131 from Mimaki smashes all established records for a grand format flatbed UV LED printer, with production speeds of up to 60sqm/h, delivering unbelievably high quality, right down to 2 point text on a massive 210 x 310 cm print area.
The Mimaki JFX500-2131 delivers
Amazing print speeds up to 60sqm/h with CMYK and 45sqm/h with white ink printing
Maximum print size of 2.1 x 3.1 m
Intelligent Microstepping System (IMS) for accurate prints, even 2pt characters can be legibly printed
Variable dot printing with a minimum size of 7 picolitre
Mimaki Advance Pass System reduces bandings
Mimaki Circulation Technology prevents pigment sedimentation of white ink
Reliable nozzle recovery function
Vacuum unit and high performance Rasterlink RIP software included as standard
Print head
On-demand piezo head (6 print heads with 3 staggered configurations)
Maximum print area
2100 x 3100 mm
Printing resolutions
300 dpi, 600 dpi, 900 dpi, 1200 dpi
Ink type
LH-100 Hard UV Ink (CMYK + W)

LUS-150 Stretchable UV ink (CMYK + W)

Ink supply system
Supplied by 2L ink station
Media Size
2100 x 3100 mm (w x d)
Media thickness
Up to 50 mm
Media weight
Up to 50 kg / sqm
Media set device
Air suction by vacuum
UV device
Equipped with UV LED
Interface
USB 2.0
Power consumption
Less than 2.4 kVA
Dimensions (w x d x h)
4100 mm x 4462 mm x 1490 mm
Weight
1353 kg
UV LED Curing Technology
The Mimaki JFX500-2131 employs UV LED printing technology, which does not generate excessive heat, allowing the machine to print directly on a wide range of substrates, including heat-sensitive materials, without any media deformation.
Aqueous or solvent inks require post printing drying. This is eliminated using UV technology and consequently, the media is ready for laminating immediately after printing. The job turnaround time from printing to processing is shortened and improves work efficiency and productivity.
---
Amazing Print Speeds
Equipped with the new developed print head (6 print heads with 3 staggered configuration), the JFX500-2131 achieves production speeds of up to 60sqm/h.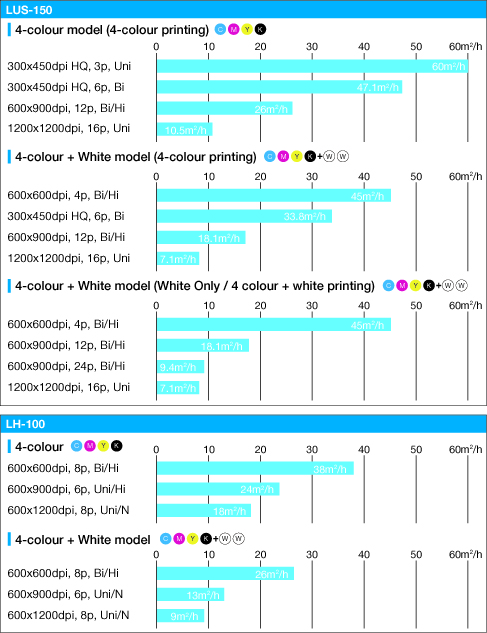 ---
Outstanding Print Quality
Intelligent Microstepping System (IMS)
The JFX500-2131 includes two units of Mimaki's unique and highly-accurate linear scales controlled by an Intelligent Microstepping System (IMS) for fine step accuracy and dot placement. This results in less banding and the ability to print down to 2-point text with stunning clarity.
High Resolution up to 1200dpi and Variable Drops
High image quality is achieved by utilising a resolution up to 1200 x 1200 dpi and variable dot sizes. The minimum drop size is an fine 7 pico-liters that produces a smooth, natural gradation without granular appearance even in 4-colour mode.
---
Multiple Ink Options
Two types of ink are offered with the JFX500-2131.
LUS-150 (LED UV Stretchable Ink)
The newly formulated LUS-150 ink offers less curing times resulting in a less tactile sticky feeling and it is flexible up to 150%.
LH-100 (LED UV Hard Ink)
The JFX500-2131 also operates with Mimaki's LH-100 inks. The LH-100 ink offers higher scratch and chemical resistance as well as colour reproduction.
Simultaneous white ink under and overprint
Print outstandingly colourful, bright images on transparent and coloured substrates with white ink under or overprint without slowing down the print speed.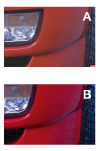 A. 4/6 colours only
Without white ink as a basis for overprinting, the colours are not as vivid as they should be.
B. 4/6 colours + white
With the white ink overlay print, the images are bright and vivid.
---

Mimaki Advanced Pass Systems (MAPS)
The Mimaki Advanced Pass System (MAPS) effectively reduces bandings with multiple printing passes, using a gradational mask pattern. When this option is selected, UV curing is performed more gradually which diminishes any appearance of banding.
---
Other Useful Functions to Ensure Quality
Layout Pins for Trouble-Free Media Alignment. The JFX500-2131 is equipped with pins and a scale that simplifies the alignment procedures required in flatbed printing. Simply fix the substrate to layout pins, check placement with the scale, and edit the design data or printer settings accordingly.

Nozzle Recovery Function temporarily restores print quality, reducing potential downtime if maintenance issue should arise.
Mimaki Circulation Technology (MCT) prevents pigment sedimentation of white ink, reducing ink waste.
---

Environmentally-friendly Technology
UV LEDs have longer life and consume less energy than conventional UV lamps
Less transfer waste and no wasted inventory by printing on-demand, direct-to-substrate
No noticeable odour and no excessive noise