JFX200-2513: Affordable, high-performance flatbed UV LED printer
The latest addition to Mimaki's family of UV LED flatbed printers, the JFX200-2513 delivers unparalleled results to expand the potential for professional sign and graphics companies. A choice of inks, including white and clear, offers unlimited creative opportunities, with the capability to print to a wide range of substrates. Easy to use and with a compact footprint, the JFX200 -2513 maximizes productivity by using industry standard-sized media, on its 2.5m x 1.3m bed.
The Mimaki JFX200-2513 delivers
Highly productive print speeds up to 25m2/h and 12.5m2/h with simultaneous white ink printing
Maximum print area of 2.5m x 1.3m
Newly developed ink supply unit, speeding up ink replacement process
Mimaki Advance Pass System reducing bandings
Layout pins simplifying the process of aligning media
Mimaki Circulation Technology preventing pigment sedimentation of white ink
Two layer printing with white ink to clear and coloured substrates
Vacuum unit and high performance Rasterlink RIP software as standard
Print head
Staggered array of 2 heads
Maximum print area
2500 × 1300 mm
Printing resolutions
300, 450, 600, 900, 1200 dpi
Ink type
UV curable ink: LH-100 (C, M, Y, K, W, CI)

UV curable ink: LUS-150 (C, M, Y, K, W, CI)

Ink supply system
Supplied from 1-litre bottles for each colour
Media Size
2500 × 1300 mm (w x d)
Media thickness
Up to 50mm
Media weight
50 kg/m2 non concentrated load
Media set device
Absorption fixed through use of a vacuum
UV device
Equipped with UV LED
Interface
USB 2.0
Power consumption
2,88 kVA
Dimensions (w x d x h)
4400 × 2250 ×1250 mm
Weight
650 kg
High Productivity and Print Speed
The Mimaki JFX200-2213 prints up to 8 sheets of 8ft x 4ft (2,440 x 1,220mm) media per hour.


---
MCC, Mimaki Clear Control
MCC is the new function added to the JFX200-2513. MCC enables to do full color printing and Clear printing at the same time.
Advantage 1, Reducing the attachment of dust 
Previously, dust attached easily to the surface of materials during clear ink printing MCC reduces the risk that dust could attach.
Advantage 2, Easier process
It was needed to divide printing process into 2 stages: clear-printing and full color printing MCC enables to print these together in 1 go and reduces the production time.
3 types of finishes
Glossy finish
Matte finish
Emboss finish
Various appearances
Overall print
Partial Print
Texture print
---
New Ink Supply Unit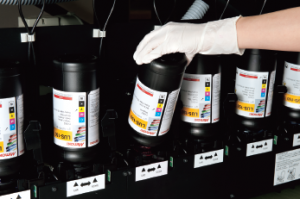 1 Litre bottles of ink can be easily inserted from the front of the printer, speeding up the replacement process.
---
Easy operation: Layout pins eliminate alignment problems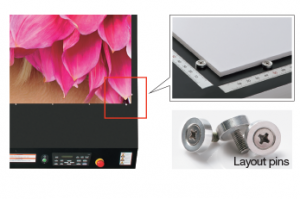 The machine is equipped with pins and a scale to ensure accurate substrate alignment on the flatbed. By fixing the substrate to the pins, checking the placement against the scale and then editing the design data or printer setting accordingly, all alignment problems are eliminated.
---
Direct-to-media printing even on to thick media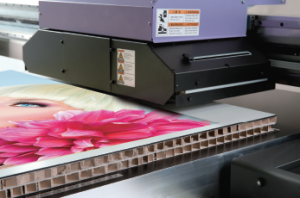 Images can be printed directly onto rigid media up to 50mm thick, providing great versatility and a wider range of potential applications.