Next-generation direct-to-object production flatbed LED UV printer
Capitalising on its peerless heritage in compact UV LED direct- to-object print technology, the UJF-7151plus reaffirms Mimaki's market dominance in this rapidly developing sector. Geared to on-demand printing of the very highest quality at industrial production levels of output, UJF-7151 plus utilises state-of-the-art technology to deliver a powerful and reliable digital alternative to traditional screen print operations.
UJF-7151 plus delivers
Precise ink drop placement at up to 1,200dpi
6 staggered print heads
Large 710 x 510mm printable area
Superior image quality control technology (MAPS4 & MFD1)
Direct printing on substrates up to 153mm thick
High-end industrial construction for precision production output
Process, White & Clear inks
plus Primer
High speed printing – up to twice the speed of previous models
Print head
On-demand piezo head (6 staggered printheads )
Maximum print area
710 × 510mm
Printing resolutions
1,200dpi
Ink type
LH-100 (C, M, Y, K, W, Cl)
PR-200 (Primer)
Ink capacity
1L bottle
Media size
710 × 510mm or smaller
Media thickness
Media weight
10kg or less
UV device
UV LED
Interface
USB 2.0 Hi-speed / Ethernet 1000BASE-T
Power consumption
1.3 kW
Dimensions (w x d x h)
2,198 × 1,572 ×1,273mm
Weight
317kg (Base stand weight is included)
High quality industrial construction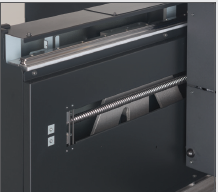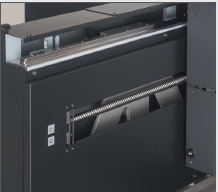 Delivers precision output
In order to reduce printer unit vibration, the print table moves during printing instead of the Y-bar. Two ball screws are installed on both sides of the table to assist with its movement. In addition, four motor-driven legs are added beneath the table to maintain its horizontal position when the table is lifted or lowered, resulting in a more precise droplet placement and higher quality print output.
---
Uninterrupted printing features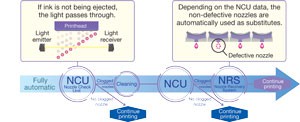 Maintain high productivity levels
In the event of a nozzle malfunction not being repairable by the use of the maintenance function, printing can continue by the use of another nozzle, without any loss of productivity or a reduction in image quality.
Ink Circulation System
Located in the print head reduces ink settling and provides stable ink jetting. In addition, the system removes air bubbles, which plug the nozzle. Nozzle-cleaning frequency is thereby reduced, resulting in a more cost-effective and stable print output.
---
MAPS4 Advanced Pass System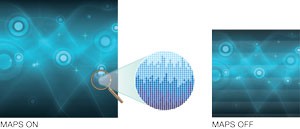 Mimaki's unique anti-banding feature, MAPS4 is a more advanced version of MAPS3. To prevent banding, swath boundaries are overprinted and boundaries prone to banding are printed with fewer ink droplets.
---
MFD1—Mimaki Fine Diffusion 1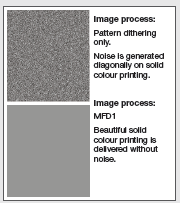 Dithering is an image processing technique, which transforms image data for inkjet printing. Pattern and error-diffusion dithering may, however, generate particular image noise resulting in uneven colour printing or tone jumps, even on a high-performance printing unit.
New RasterLink 6 software*, incorporates patented* image-processing MFD1, which reduces noise due to dithering through hybrid processing of pattern- and error-diffusion dithering, thereby enhancing print quality.
* MFD1 is available for Version 4.0 and higher
* Patent number: 5230816
---
Environmentally-friendly Technology
UV LEDs have longer life and consume less energy than conventional UV lamps
Less transfer waste and no wasted inventory by printing on-demand, direct-to-substrate
No noticeable odour and no excessive noise