[vc_row type="container" padding_top="" padding_bottom="" css=".vc_custom_1445095550748{margin-bottom: 0px !important;}"][vc_column width="1/2″][vc_column_text]
JV5 Series Highly Productive Large Format Solvent Printers
The Mimaki JV5 series large format inkjet printers offer a combination of high speed performance and excellent print quality. With a top speed of 58 sqm/h and quality prints at 40 sqm/h, it is made for both immediate delivery and high-volume production. The JV5 series include the grand format JV5-320S for large outdoor signs.[/vc_column_text][/vc_column][vc_column width="1/2″][vc_single_image image="71299″ img_size="full" add_caption="yes" onclick="link_image"][/vc_column][/vc_row][vc_row type="container" padding_top="" padding_bottom="" css=".vc_custom_1444504829954{margin-bottom: 0px !important;padding-top: 10px !important;}"][vc_column][vc_separator color="#e2e2e2″ type="normal" thickness="1″ up="" down="" el_class="dotted"][/vc_column][/vc_row][vc_row type="container" padding_top="" padding_bottom=""][vc_column][vc_column_text]
JV5 Series delivers
4 staggered high speed print heads (per head 8 lines of 180 nozzles)
Incredible high speed at 40 sqm/h in quality mode (top speed 58 sqm/h)
Maximum print width of 3,250 mm (JV5-320S)
HS ink and ES3 eco solvent inks
Unattended continuous printing
Automatic nozzle checking unit
Optional strong automatic media feeding system (AMF unit)
Aqueous models available for dye sublimation transfer and indoor applications (pigment inks
[/vc_column_text][/vc_column][/vc_row][vc_row type="container" padding_top="" padding_bottom="" css=".vc_custom_1449062907629{margin-bottom: 50px !important;}"][vc_column][vc_tta_tabs style="flat" active_section="1″][vc_tta_section title="Specifications of JFX200-2531″ tab_id="1444300654474-2bfb86dc-fd3a"][vc_column_text]
Print head
On-demand Piezo head (180 nozzles x 8 lines) x 4 heads
Maximum print width
JV5-130: 136 cm
JV5-160: 162 cm
JV5-320: 325 cm
Printing resolutions
540, 720, 1440 dpi
Ink type
Exclusive inks: HS ink, ES3 ink
Ink capacity
6-color mode: 440 cc cartridge x 2/color, 880 cc/color
4-color mode: 440 cc cartridge x 4/color, 1760 cc/color
Media Size
JV5-130: 21-137 cm
JV5-160: 21-162 cm
JV5-320: 21-330 cm
Roll weight
JV5-130: Max. 38 kg (standard), Max. 130 kg with AMF (optional)
JV5-160: Max. 38 kg (standard), Max. 130 kg with AMF (optional)
JV5-320: Max. 130 kg
Roll inside diameter
JV5-130: 2 or 3 inch
JV5-160: 2 or 3 inch
JV5-320: 3 inch
Media heater
Triple stage intelligent heater (pre/print/post)
Nozzle checking unit
Laser system (class 1 or below)
Interface
USB 2.0
Power consumption
3,600 VA or below (JV5-320: 7,200 VA or below)
Dimensions (w x d x h)
JV5-130: 286 cm x 105 cm x 154 cm
JV5-160: 312 cm x 105 cm x 154 cm
JV5-320: 517 cm x 161 cm x 164 cm
Weight
JV5-130: 324 kg
JV5-160: 333 kg
JV5-320: 1200 kg
[/vc_column_text][/vc_tta_section][vc_tta_section title="Features " tab_id="1444300654691-e081e086-5ad3″][vc_column_text]
High speed performance and excellent image quality
The JV5 large format solvent inkjet printers feature 4 staggered print heads (per head 8 lines of 180 nozzles), enabling high speed printing.

---
Unattended continuous printing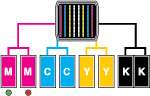 Uninterrupted Ink Supply System (UISS)
The Uninterrupted Ink Supply System allows for continuous printing in 4-colour mode. When one ink cartridge runs out, another cartridge of the same colour begins supplying ink. It is possible to print approximately 90 m without changing cartridges. Ink cartridges can be changed during printing.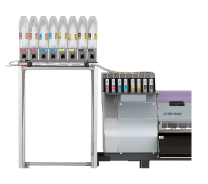 Mimaki Bulk Ink System (MBIS) – optional
The bulk ink system is an eco-friendly ink system that produces less waste while achieving continuous printing. It uses 2-litre ink packs and achieves as stable and reliable ink ejection as printing solely with cartridges. It is possible to use both 2-litre ink packs in combination with regular 220/440cc cartridges.
Available Inks
Mimaki's HS ink offers high resistance and high speed high density printing for outdoor signage. In addition, Mimaki offers the environmentally-friendly ES3 ink. For the aqueous model, dye sublimation inks are available.
---
Advanced Features of JV5 Series
Automatic nozzle failure detection
This feature monitors the ink discharged from the print head, resulting in quick detection and recovery of clogged nozzles. It lowers the chance of print failure caused by head clogging and reduces the waste of ink and media, thus saving time and money.
Strong media feeding system
With the automatic media feeder, JV5-130S and JV5-160S can handle rolls up to 130 kg (38 kg with standard model). For JV5-320S, there are two take-up devices available that enable the printer to handle rolls up to 130 kg.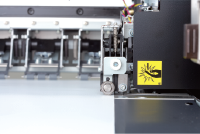 Automatic head height adjustment
The thickness of the media is automatically detected and the height of the head is automatically adjusted to get the designated head gap. Even when the thickness of the media is changed, printing can be made with a constant head gap. This enables the user to always obtain the best printing results.
Head gap can be set step-less in 4 positions between 1.5 mm to 7 mm.
Three stage intelligent heater
Intelligent heater to enhance color development and to fix the ink by automatically heating the media to its proper temperature.
Large sized heater and drying fan
Equipped with a large-sized post-heater and drying fan, which promotes drying of the media printed at high speeds, thus enabling the winding.
Reliable RIP software
High performance RasterLink RIP software is included as standard to help youutilise the various functions of the JV5 series.
---
Additional Features on JV5-320S
Mesh printing innovation (Optional)
An ink tray receives excess ink which passes through a mesh, avoiding the requirement for a liner. Ink in the tray is automatically raked out to enable longer printing without worrying about ink overflow.

Double sided printing innovation
By printing on both sides of FF (flexible face), images for viewing both at night and in daylight can be enhanced to show the same greater brilliance. Especially suitable for eye catching backlit applications.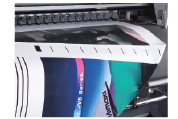 Automatic registration of double sided prints
When printing on the reverse side, a sensor detects marks printed on the front side and automatically compensates for shrinkage caused by solvent. In addition, the printing position in the head movement direction can be changed manually during printing so that the relative positions of double sided images can be adjusted.[/vc_column_text][/vc_tta_section][vc_tta_section title="Video " tab_id="1444301268806-6cabfa0f-2e9d"][vc_column_text][/vc_column_text][/vc_tta_section][/vc_tta_tabs][/vc_column][/vc_row]