https://youtu.be/uIor62kFoyE
Mimaki 3DUJ-553
The World's First Full-Colour 3D UV Curable Inkjet Printer
With the Mimaki 3DUJ-553 UV LED printing solution we introduced a brand new approach to 3D printing. This is the world's first 3D printer with over 10 million colours, enabling the production of 3D objects, eliminating the time-consuming finishing and the risk of damaging small detailed parts.
 
Overview
Specifications
Features
Overview
• Printing in Full Colour with over 10 million colours with ICC profiling/proofing
• Extreme high uptime
• Build size 500 x 500 x 300 mm
• Possibility to mix clear and colours to achieve different levels of transparency
• Strength of the material is comparable with ABS
• Smooth surface
• Water-soluble support material, which prevent small detailed parts to break
• WYSWYG What You See is What You Get
• Transparency for glossy effects
• Existing 3D data of white objects can be easily coloured in 3D Link software
• 3 Printing qualities (20 – 32 – 42 micron layering)
Specifications
Specifications of 3DUJ-553
Item
3DUJ-553
Modelling method
UV curable inkjet
Available colour number
Full colour/More than 10 million different colours
Print head
On-demand piezoelectric print head (8 heads inline)
Ink
Type
Modelling ink MH-100(C,M,Y,K, White, Clear)
Support material ink SW-100
Colour
C,M,Y,K, White, Clear, Support material
Tank volume
C,M,Y,K:3L
White, Clear, Support material 5L
Supply style
Pump
C,M,Y,K:1L bottle
White, Clear, Support material 4.8L bottle
Available modelling area
(W×D×H)
508×508×305mm (20x20x12in)
Minimum layer pitch
20㎛
Modelling time
(Modelling 100×100×100mm(W×D×H) object)
High speed mode: 14.4 hours 600x300x600dpi (42㎛)
Standard mode: 17.0 hours 600x300x800dpi (32 ㎛)
High definition mode: 25.7 hours 600x300x1270dpi (22 ㎛)
3D data format
STL, OBJ, VRML, PLY, 3MF
Software (Standard accessories)
Layout software (Mimaki 3D Link)
Interface
Ethernet 1000BASE-TX
Power
Single phase AC 100-120V/220-240V±10%
50/60Hz±1Hz
Safety standard
VCCI Class A/FCC Class A/ Compliant with UL60950, ETL /
CE Marking (EMC, Low Voltage Directive)/CB Report/ RoHS/REACH
Outside dimensions (W×D×H)
2.250×1.500×1.550 mm (88,6×59,1×61,0 inch)
Weight
600 kg (1.322,8 lb) (mounted ink weight incl.)
* Specifications, designs and dimensions stated in this list may be subject to change without notice due to technical improvement etc.
 
Supplies for 3DUJ-553
Supplies
Type
Quantity
Ink
MH-100 (CMKY)
1L bottle
MH-100 White
4,8L bottle
MH-100 Clear
Support material
SW-100
Features
Features of 3DUJ-553
More than 10 million colours
With its UV LED curing method, the 3DUJ-553 is able to print objects layer by layer applying UV ink using CMYK, white and clear at a layer thickness of 22, 32 or 42 microns, producing a finished object of exquisite quality. UV LED curing also applies minimal heat to the object. The printer exhibits fast start-up times and minimal power usage, reducing the overall running costs.
---
Colour profiles
The 3DUJ-553 is the world's first 3D printer to take advantage of colour profiles. This means not only accurate colour from the printer but also allows the development of proofing profiles for accurate viewing of colour on a calibrated monitor. This ensures accurate colour simulation before printing even begins, saving time and reducing waste.
By implementing a colour proofing profile created by [MPM3] (option) to Adobe Photoshop, the colour can be simulated and checked on your monitor. The colours of the final printed object will be realistic and will approach the colours that were displayed on your monitor. By using proofing profiles, reduction of colour adjusting is a huge benefit saving your precious time. Just print your coloured object in one "shot".
---
UV Inkjet method
UV curable ink is hardened with UV light. Mimaki's technology involves laying down successive layers of UV curable ink, one on top of the other, until the desired model is completed.
---
Lamination and colour fixing
3D data is sliced and printing starts simultaneously for ink and support material until the model is completed.
---
Add translucency with clear ink
Using clear ink adds an additional effect to 3D printed objects, especially if the object is illuminated. The combination of clear and CMYK inks opens the door to increased designer creativity.
---
Excellent post-process performance
The inks used by the 3DUJ-553 contain an acrylic resin that produces hardness equivalent to ABS plastic. This means that overcoating, drilling and attachment of screws can be accomplished without damaging the object. It also adds superior weather resistance, surface smoothness and strength to the object.
---
Water-soluble support material
The 3DUJ-553 uses a water-soluble support structure which can be washed away with water. Removal of the support material using water, enables highly detailed models to be created without damaging the objects during this removal process.
 
---
Stable operation
Continuous ink flow is made possible by using an ink sub-tank installed in the print head. This prevents pigment deposits, air bubbles and ensures ink is emitted correctly. Additionally, this prevents missing nozzles and maintains a stable print environment and keeps the up-time of the printer extremely high.
---
Camera for monitoring of modelling status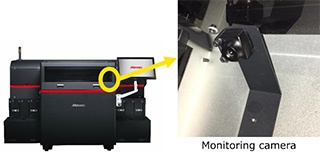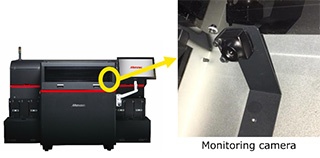 The 3DUJ-553 has a monitoring camera that enables users to remotely observe the modelling status.
 
PRINT A WIDE RANGE OF PROFITABLE APPLICATIONS
Prototypes, Tools (making industry), Architecture models, Offshore & ship presentation models, Toys, 3D Art, 3D signing, Accessories, Etc..
Experience the 3DUJ-553