[vc_row type="container" padding_top="" padding_bottom="" css=".vc_custom_1449576470084{margin-bottom: 0px !important;}"][vc_column width="1/2″][vc_column_text]CG-SR III Series: Extreme Curve Cutting Speed
With a host of technical improvements over previous cutters, Mimaki's new CG-SR III range of cutting plotters features a 60 cm wide desktop model up to a 137 cm wide professional production unit. All with the capability to ut to a wider range of substrates and applications at higher speeds that ever before. By delivering a practical and cost effective solution for every sign and graphics need, the highest possible return on your investment is assured.[/vc_column_text][/vc_column][vc_column width="1/2″][vc_single_image image="71496″ img_size="full" add_caption="yes" onclick="link_image"][/vc_column][/vc_row][vc_row type="container" padding_top="" padding_bottom="" css=".vc_custom_1444503683289{margin-bottom: 0px !important;}"][vc_column][vc_separator color="#e2e2e2″ type="normal" thickness="1″ up="" down="" el_class="dotted"][/vc_column][/vc_row][vc_row type="container" padding_top="" padding_bottom=""][vc_column][vc_column_text]
CG-SR III Series delivers
Wider Roll cutting format for professional use
Stunning value & highly competitive performance
3 different cutting widths available (606/1070/1370 mm)
Up to 70 cm/s cutting speed
Fast and accurate contour cutting
Best-in-class cutting pressure of up to 500g
Half-cut function holds image in place after cutting for perfect stickers and decals
[/vc_column_text][/vc_column][/vc_row][vc_row type="container" padding_top="" padding_bottom="" css=".vc_custom_1449063285344{margin-bottom: 50px !important;}"][vc_column][vc_tta_tabs style="flat" active_section="1″][vc_tta_section title="Specifications of CG SR III Series" tab_id="1444300654474-2bfb86dc-fd3a"][vc_column_text]
Item

CG-60SRIII

CG-100SRIII

CG-130SRIII

Acceptable sheet width

90~740 mm

90~1,250 mm

90~1,550 mm

Effective cutting area

606 mm

1,070 mm

1.370 mm

Maximum speed

Cutting: 70 cm/s, Moving: 100 cm/s

Adjustable speed range

1 – 10 cm/s (1 cm/s step adjustment), 1 – 70 cm/s (5 cm/s step adjustment)

Mechanical resolution

X direction: 2.5 μmˎY direction: 5 μm

Command resolution

25 μm or 10μm (MGL-IIc) / 100 μm, 50 μm (MGL-Ic1)

Repeatability*1

± 0.2 mm / 2 M

Effective Repeatability*2

586 mm × 2 M

1,050 mm × 2M

1.350 mm × 2M

Maximum pressure

500g

Range ofdown pressure
Cutter

10 – 20 g(2 g step), 20 – 100 g(5 g step), 100 – 500g(10g step)

Pen

10 – 20 g(2 g step), 20 – 100 g(5 g step), 100 – 150g(10 g step)

Acceptable sheet*2

Vinyl sheet, Fluorescent type vinyl sheet, Reflective sheet, Rubber sheet

Acceptable tool*3

Cutter, Ball-point pen

Type of command

MGL-IIC / MGL-Ic1

Interface

USB2.0ˎRS-232CˎEthernet

Receiver buffer size

27 MB Standard (When sorting, 17 MB)

Operational environment

5 – 35 ºC, 35 – 75 %(Rh), Non-condensation

Power requirement

AC 100 V – 240 V, 145 VA or less

Dimensions (W x D x H)

1,030 × 430 × 335 mm

(1,030 × 430 × 1,185 mm)*4

1,530 × 580 × 1,150 mm

1,830 × 580 × 1,150 mm

Weight

24kg

41kg

46kg

Stand

Optional equipment

Standard equipment

Standard equipment
[/vc_column_text][/vc_tta_section][vc_tta_section title="Features " tab_id="1444300654691-e081e086-5ad3″][vc_column_text]
High speed continuous register mark detection
For precise contour cutting of printed images, such as stickers, the optical sensor detects register marks that are printed on the media. By recognizing these marks, the distance to the image is calculated accurately.
By continuously detecting a maximum of 4 register marks nested images in both X and Y axis direction can be cut aligning each image automatically. Detecting one register mark is sufficient when using Mimaki's FineCut software.
---
Innovative Mimaki Half-Cut function
Mimaki's original Half-Cut function produces a series of half and die-cuts leaving a few connection points that keeps the image in place. When the job is done the sticker/image can be taken out easily or the complete sheet or roll can be sent to the customer. Various media without backing sheet can also be Half-Cut.
---
Segment correction function
This function detects intermediate crop marks, enabling four-point corrections for each segment. This facility ensures accurate contour cutting over longer length prints, even if the image becomes distorted.
---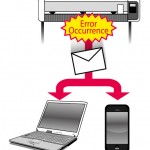 Remote monitoring capability
Machines use an Event Notification Function to send information to pre-set e-mail addresses about completion of cutting task or errors in production, thereby enabling unattended operation and improving productivity.[/vc_column_text][/vc_tta_section][/vc_tta_tabs][/vc_column][/vc_row]